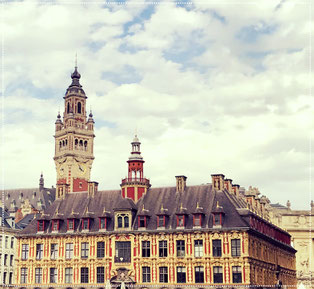 Using the excuse of an evening invitation in Lille, we recently spent a day in the capital of Flanders, where we were lucky to see the city at its best with the Indian summer sun shining on its red brick buildings.
Indeed, as soon as we are in Lille, we always try and make some time to shop some "classics" to bring back to Germany where we currently live.
We started with a café au lait at one of the many cafés of the Grand Place, Lille's main square. This is actually the place which most 'Lillois' will use as meeting point and this has been the case since the middle ages :)
Sitting in one of the side streets (Place Rihour), leading to the Grand Place, the autumn sun in our faces, we enjoyed our café au lait in our typical bistro seats whilst viewing the former stock exchange building, typical of the flemish renaissance with its gables and bricks.
Some minutes later, we made our way to the Grand Place where we first stopped at the Furet du Nord. The original place was a rabbit fur shop and given rabbits were hunted by ferrets, they named it "ferret of the North". Somehow the name stuck when the shop was transformed in the 1930s into a university bookstore - the university of Lille is the biggest in France - which is today a 400sqm paradise for books, movies, music fans or anyone needing something culture-related.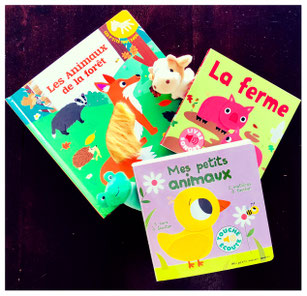 I have been there so often for school and university books, for presents, for CDs and DVDs - does that still even exist? - for trip preparing and this time...for Baby Lifestylette :)
They have so much choice - and if you want to make sure that your Wishlist is there, you can book online, collect it in the shop and check it out before buying.
Having filled our bags with enough animal-noise-books for the next months, we headed to one of my favourite areas of Lille, where you basically just eat, drink, eat and drink :)
As we were a little under time pressure given the party we were attending, we went for some specific shopping which I will describe but if you have more time, you should definitely stay in those streets for more window-shopping, real shopping and lots of eat, drink, eat and drink!
Head to the rue Esquermoise for lots of that.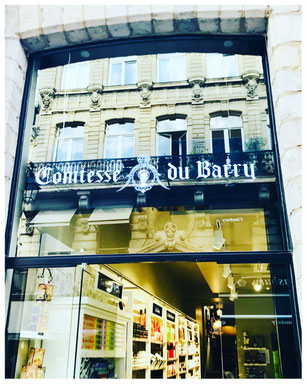 When in Lille, we ALWAYS go to La Comtesse du Barry.
Founded early 20th century in the South West of France, La Comtesse du Barry gave itself the mission to create the best foie gras in the world and was, if not the first, among the first to sell foie gras by mail order in the 1930s.
Over the years they have extended their product range to all sorts of gourmet lovers' specialties, salty and sweet and sell all over the world, in specialty boutiques BUT you could also have your delicious 3-course dinner delivered to your country.
Isn't that fantastic?
My mother had one of those luxury dinners sent to my grandmother for her birthday. It was such a treat and apparently delicious.
But let's return to the shop.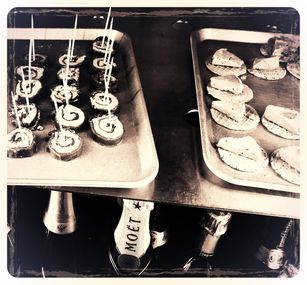 We love La Comtesse du Barry, the shop and its products.
Every time we go for a classic tower of their little pâtés - we eat up a lot, but it also is a perfect addition to a homemade gift when invited to dinner with for instance a good bottle of red wine and some chocolates.
And, every time, we like to try something new. We were so warmly received and were immediately offered to taste some foie gras specialty, rolled in smoked duck.
It was heaven!
The lollipop look alike foie gras melted in our mouths and we would have gone for more as well as the offered glass of wine, had we not needed to continue our way.
Yes, of course we got a box - and now I am kicking myself that we didnt get more :)
A few houses further, we entered our next stop: Meert.
An institution in Lille since the 18th century (!), the Pâtisserie is known for its famous vanilla gaufres - apparently De Gaulle loved them as well :)
If you have time, you should definitely go there for tea in the hidden but beautiful tea room at the back of the shop. When I used to come back more often, I went there with my mother for a luxurious afternoon tea catch-up with mouth-watering home made pâtisseries - for me with lots of chocolate involved - and one of their delicious teas.
The line is definitely worth the wait!
If you don't have time, make sure you do the next time :) and treat yourself to one of the specialties sold in the beautiful authentic front shop!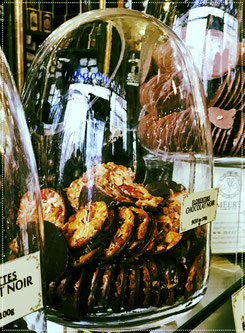 We always go for some gaufres as well as LFSTYLT husband's favorite: Florentins.
Not too sweet, not too gooey but the right amount of nuts and chocolate all thinly presented - yes, my mouth is watering as I am writing this - are gorgeously presented in little take away boxes  neatly closed with a pretty ribbon.
A perfect gourmet gift or if you are like us, for a dégustation back home after dinner.
Here as well, we wish every time we would have taken a bigger box!
This is the part where you definitely should continue your journey in the 'Vieux Lille' and where we looked at our watches, panicked that we would come back too late to dress for the party.
So we headed quickly to one of my absolute favorite French brands for baby clothes.
My mother used to go there for us as children...and one of my sisters-in-law always gets us such beautiful gifts for Baby Lifestylette that I wanted to make a quick stop.
It is in the rue de la grande Chaussée and yes, don't get me started, it broke my heart not to have time for shopping in all the French brands that I miss so much which are concentrated in that little area - but we were here on a mission :)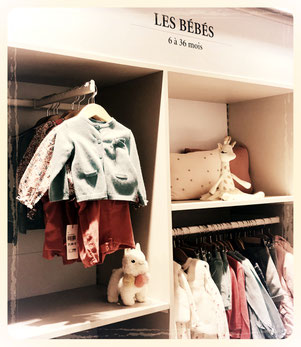 Cyrillus is a brand which was created late 1970s from a mom who basically couldn't find anything which corresponded to the style she wanted her children to be dressed in.
Thankfully for us, she created Cyrillus.
As soon as we entered the shop, we were greeted by ladies who were ever so kind and welcoming. They accompanied us to the right section for Baby Lifestylette.
Even LFTSYLT husband was admirative of the welcome and those of you who have read my post on good service, will know that this really means the welcome was good!
We arrived at the baby section and I would have bought everything. They have so cute models, beautiful materials, lots of knitted items and in fresh colors that I don't really find here - had Baby Lifestylette not had so many clothes already, I would definitely have bought more.
It was a really tough decision to narrow down our choices to only two items. They have a lot of clothes with Liberty material which is to die for.
Baby Lifestylette's aunt already mentioned had offered her for instance for her birth a beautiful new born towel with liberty details and her name embroidered.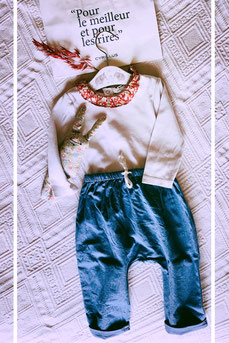 So after lots of picking up and putting back down as we had to be reasonable, we settled on a little body with a liberty collar to match a relax denim blue trousers. And yes, I am a little disappointed that I didn't also go for the so sweet and in my favourite grey color knitted mittens with cashmere so I actually went to order those online.
That was a terrible error as I immediately wanted to buy ALL that they have. They also have a baby room decoration section that I hadn't really noticed in the shop.
So now I think that as soon as I will have started work again, I will allow myself some baby decoration shopping there as well :)
But there was no time for all that unfortunately or probably fortunately for my purse and our family budget! It was already more than time to head off and get changed in our party frocks and do some gourmet eat, drink, eat and drink :)