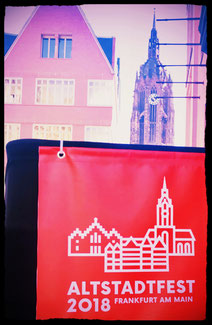 After so much travelling, we decided to stay in Frankfurt for once last week end and enjoy the gorgeous autumn weather which was announced.
It was great to re-discover the city we live in as expats and now with a baby. 
Thanks to Baby Lifestylette we wake up so early that we now have the feeling we have a whole bunch of extra days in the week-end to squeeze in lots more. 
Frankfurt has just officially opened its 'new old town' so we decided to go and have a look at it.
We moved to Frankfurt some time ago for our jobs and I must admit that we have not seen much of what the city has to offer in terms of culture so far.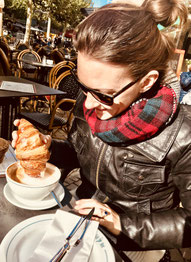 We started our tour with a delicious café au lait and croissant in a new café that the LFSTYLT husband had spotted in one of the main streets of Frankfurt. Café Paris opened last summer and has typical French - yummy! - petit déjeuner as well as bistro food. As LFSTYLT husband is not a fan of French breakfasts, too tiny for his taste, he got a Croque Monsieur which was, I quote, "dayleeceeyo". 
We sat on the bistro-like terrasse, enjoying the autumn sun in our faces and the company of sparrows hoping for a crumb or two.
We then made our way through to the old town where all sorts of festivities were taking place.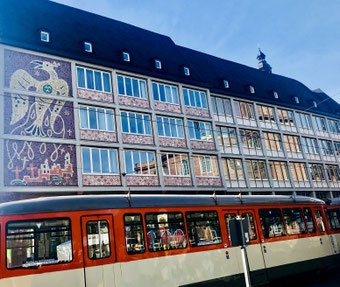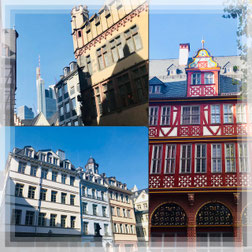 After having never seen this area other than as a massive building site - the project officially was approved in autumn 2007 - we were pretty curious to see what the new Frankfurt old town looked like.
We were not disappointed.
35 buildings have been newly built / reconstructed in a beautiful manner as in older times. The little city looks very harmonious and one can finally get a clear idea of what old Frankfurt must have looked like.
A lovely quaint German town.
Wandering through the little streets, our noses in the air to contemplate the buildings, we understood why the project took so long.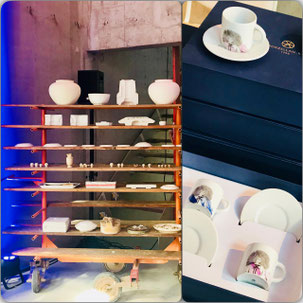 It has been an incredible work of going through archives as well as planning. Additionally, typical Frankfurt spolia - for those like me, this means older stones / sculptures from buildings no longer existing which can be integrated in new buildings - were searched for and integrated in 14 of the houses to contribute to give a real old town flair.
As we continued exploring the streets, we entered lots of cute little shops with local specialties - think Christmas shopping!
We discovered for instance a porcelain factory from the outskirts of Frankfurt, Höchst, with cute little Frankfurt coffee sets. I definitely need to get my hands on a few of those for future gifts.
Before I could, the LFSTYLT husband's stomach was growling so we decided to stop for a bite and drink. It was difficult to choose between the cute cafés and typical Frankfurt food places. We compromised and settled first for an elegant wine bar which was offering a homemade Frikadelle. The Balthasar Ress wine bar is also new in town and offers delicious wines from their Rheingau wine estate with the possibility to be accompanied by a regional bite - or two hehe! We sipped our wine on the outside terrace whilst sucking in the atmosphere of the new old town.
For the sweet tooth, you could finish off in the Cafébar before checking out the current exhibition of the Frankfurt Kunstverein which is directly next to the café. Or you could decide to just enjoy the sunshine along the river Main which is what we did!