My German girlfriends with children have invited us to some baking afternoons where they bake with their children "Plätzchen" - a sort of little cookie which one bakes & decorates together and offers in the advent time in Germany.
It is a beautiful tradition.
Except for zero-baking-skills me.
Having friends over the past week-ends for brunch and tea, I wanted to offer something baked as well but easy for baking-dummies...good-looking and not dry. 
Quite the challenge.
With no clue, I searched the internet for ideas for babies as well as adults and came across a recipe for baby muffins as well as one for not that young with two of my most favorite ingredients. I adapted both slightly to not be too sugary nor hopefully dry ;)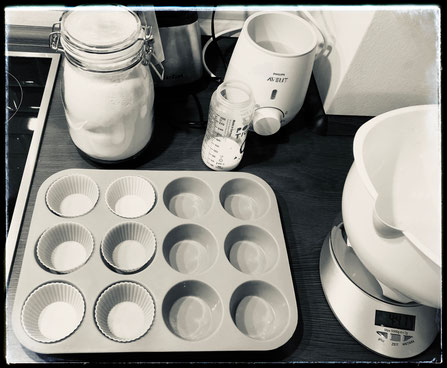 Baby chocolate & banana muffins
For 3 muffins:
20 cl formula milk
10 g of sugar
1 banana
25 g dark chocolate
25 g of flour
20 g butter
1 pinch of baking powder 
1- Mash the banana with a fork and melt with butter in a pan - it should be a smooth & juicy puree. Keep warm.
2- Heat the chocolate and butter in a bain-marie so as not to burn the chocolate. 
3- Mix the melted chocolate preparation with the sugar, formula milk, flour & baking powder. If you find the mix too thick / looking dry add a bit of formula milk. 
4- Pour the banana preparation in half the muffin moulds and add the chocolate preparation on top.
5- Put in the oven at 180°C - here the recipe said for 30 minutes but I started looking after 15' and making sure that I would get them out exactly as soon as the knife came out clean. It turned out that for me it was after 18' and I am happy I got them out then so that the muffins weren't dry!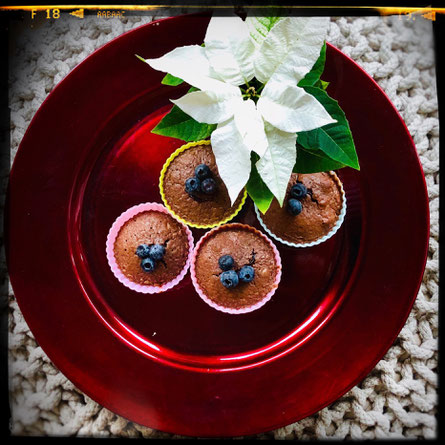 For the not so young I used the leftover chocolate with my favorite fruit: blueberries ❤️ and those muffins were even approved of by not-dessert-fan LFSTYLT husband 
Chocolate & blueberry muffins
For 12 muffins
90 g of sugar
80 g of flour
150 g of dark chocolate
140 g of butter
4 eggs
a pack of blueberries (about 250g)
1- Mix in a bowl sugar and flour
2- Here as well, heat the chocolate and butter in a bain-marie 
3- In a bowl, whisk the eggs; I used an electric mixer for that and found it just as good and less difficult than with a cooking whisk which was in the original recipe. Even then, I waited quite some time for the mixture to gain in volume & change color.
4- Mix the eggs with the chocolate mixture and then with the sugar / flour mixture.
5- Pour the preparation in the muffin moulds
6- Add in every mould some blueberries - I added quite a lot as I thought (and maybe THAT was the trick) it would prevent the muffins from becoming dry.
7- Put in the oven at 180° C for between 15 - 30 minutes. As it depends on your oven, the position in the oven, amount of berries and so on, I would suggest testing with a knife starting 15' so as not to miss out on THE moment the muffins are baked.
Et voilà! Bon appétit...and happy Advent à tous!!