As Baby Lifestylette was fighting off a pretty bad virus last week, I managed to let her childcare know at 10am where the caretakers had probably already jumped to the obvious conclusion...
Embarrassed that I had forgotten, I reflected on the many 'new learnings' and items I have now integrated in our daily lives over the past months....
Here are the 10 things I have learned in 10 weeks of childcare: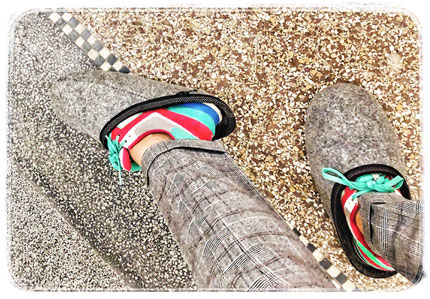 1. What are "Schlosspantoffel"?
In felt, castle slipper, museum slipper, over slipper...these were the words I found researching the internet. I had never seen this before so I am just assuming that this is not to be found outside of Germany.
I must say that the idea is pretty practical: to not dirty castles / museums you just step into those over-sized felt slippers and swish your way through the cultural attraction.
But try in the early morning in business stuff - and thankfully the high heels are in the bag and I am in some kind of flats - with a baby in your arms to bend over and catch those felt oversized slippers and shoving your feet in them and then sliding through those doors...
The other day I was so overtired, I actually even forgot to take them off and landed outside still sliding through my Schlosspantoffel.
The alternative is taking off your shoes - some parents do but I already manage to ruin every pair of new tights I put on, I most definitely will not risk ruining them at childcare before rushing off to the office.
2. What is a "Matschhose"?
This one made me laugh out loud at the preparation meeting we had before Baby Lifestylette started childcare.
Very seriously we went through a list of things to bring the first day / week and I pulled a blank at this word. 
My research engine friend helped me - it is some kind of rain pants if that makes any sense? Here the idea is also: "be practical"!
So I looked at them thinking this was a joke - as until that day; when Baby Lifestylette would go outside in the rain, she would have her normal clothes on, a rain coat and wellies. Just as every other normal human being. And if she splashes and gets wet, well she will be changed back home and eventually learn to not do that when she gets tired of getting wet.
Well here you have to buy the extra pants so the kids don't get wet or dirty or whatever.
Thankfully, I managed to find some online at a big discounter to not end up spending a fortune on these - disgustingly - brightly coloured plastic practical pants.
3. Stoff beutel are very important.
Also in that prep. meeting, I was asked to bring three (yes exactly three - I didn't dare ask why three, I am guessing this has been delicately studied) cloth / canvas tote bags.
I actually dared ask if I couldn't bring plastic given that I have way too much at home and always try and recycle as I am not a fan of all this waste...
I pretty much regretted that.
I was frowned upon that I could even suggest such an idea with a no, no, it has to be some kind of fabric but no plastic. I eventually learned it was for clothes to be taken home for washing - I guess that at least explains why no paper bags...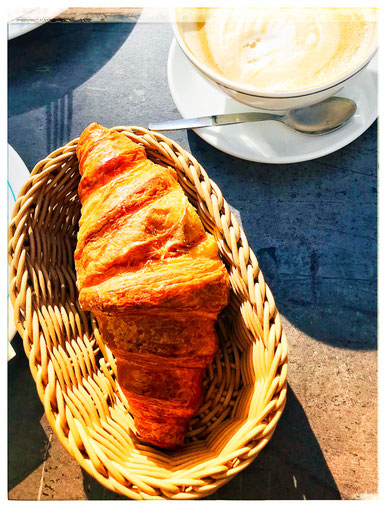 4. Just do not ask anything food-related
As a French person, food is VERY important for me. I had read during my pregnancy a fun book on the French and their raising kids habits. I had to laugh so many times as it literally reminded me of my childhood - at least as far as I can remember.
But seriously, this was one of the most important topics in the prep interview. It started with me asking how the meals are over the day.
" So the kids have breakfast at 9:30"
"Excuse me, I don't understand - what do you mean by breakfast? She already has breakfast with us in the morning"
Turns out, they have a massive breakfast which I shall call a continental breakfast which is UNTHINKABLE for me who will have bread, butter and jam or a croissant - maybe the occasional cereal or so but definitely no salami, cheese, cucumber etc.
Additionally, it is normal that kids should have lots of potatoes in different forms as well as meat only twice a week and fish once a week (mostly fish fingers then). I used to strangle myself hearing all this, wondering why on earth did I cook daily - or in batches to freeze - just for my child to be snacking and eating fried stuff?
So my take away here if you are like me: just don't ask what your child had to eat and just ask whether they ate well or not.
PS - did I mention that however my habits are probably really bad as I was told a bunch of times: "oh no croissant early mornings!: we have sugar-free mornings" hahaha for me that was the cherry on the cake!
5. You will discover a whole new sphere of diseases
We get regular emails warning us that there are cases of blabla-illness so we should remain cautious -- btw I absolutely love this piece of advice!
Lately we received one which left us both puzzled: "Hand-Mund-Fuss" (online dictionary calls this hand-foot-mouth disease).
We actually had to research this online to try and find out what this (disgusting looking and highly infectious) disease was. Somehow it seems that these kind of diseases are known amongst parents so it's kind of joining the club when you can knowingly say: "ah! maybe it's Hand Mund Fuss!"
However we were relieved when we recently used an injections appointment to ask our paediatrician if this was serious. His sighing and shoulder-shrugging reassured us :)
In any case, you just discover diseases you sometimes had no clue about - what a pleasure!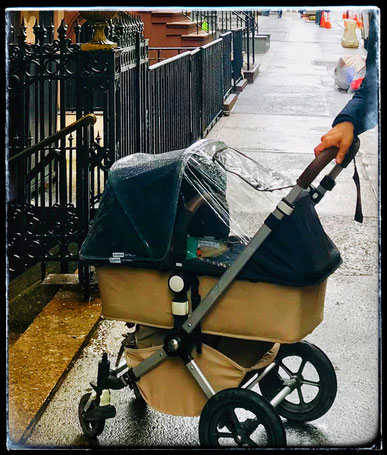 6. Never forget to bring the rain cape for your buggy
It probably depends on all childcares, ours has the possibility to park your buggy outside - slightly under a roof.
However, it does pretty regularly happen, that during the day, buggies miraculously change parking slots - yes, even if they have the breaks on! - and are then not completely under the sort of roof but basically soaking wet.
After one such experience, we always ensure we have the rain cape on the buggy.
7. Prepare to be creative for your child's "Ich Buch"
This was a very sweet discovery.
I don't know if this is just a German thing or specifically from our childcare, in any case, during the first hours of separation, to get your mind off, you get to prepare a little booklet for your child.
You are also allowed secretly to fall back into childhood and spend that time in the childcare's handicraft room.
The booklet - so-called "me-book", is to be filled with lots of pictures of your child, its family, environment etc. so that they can look at it any time of the day and see what they are most familiar with.
Not only did I thoroughly enjoy preparing this, I find it is really a sweet idea for one's child and comforting to know that they have this with them when one is away.
8. Write names everywhere
I refused to write Baby Lifestylette's name on every piece of clothing - I didn't want to ruin her clothes and couldn't be bothered to write with a pen which doesn't work on fabric properly even if it says so and makes your writing unreadable, at best resemble that of a 5 year old.
Until one day we couldn't find her extra pair of pants that is supposed to be in her locker and turned out to have magically been transported into another drawer.
As these little hands literally get everywhere and enjoy moving stuff around, you have no chance (or little) to find your child's clothing unless you want to turn around every locker there.
So we now go for the 5 year old writing.
9. Better purchase an extra pair of gloves, beanie and basically everything...
...which you leave at the childcare.
Just in case your husband forgets them in the car he then takes to drive for a business trip for a couple of days - and the childcare then gives you terrible looks asking if Baby Lifestylette doesn't have warm outdoor accessories? 
So now there is a second pair of everything at childcare :)
10. No matter what they say, Baby Lifestylette did NOT have her first steps...
...and and and in the childcare....if they say so just try and forget asap!
That was the piece of advice of one of my closest friends as I told her, saddened and concerned, that I was missing out on everything new now that Baby Lifestylette is in childcare and myself at work.
It turns out that it was the best advice.
By ignoring this when told by the childcare, I managed to really enjoy her first real steps over our Christmas holidays. For me those will forever be her first steps!