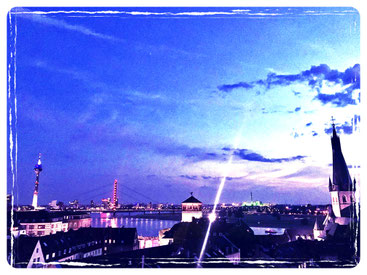 As soon as I spend what seems to me like an eternity in the same city, I need a little break.
This time, I decided to have a day trip to Düsseldorf, the capital of North Rhine Westphalia. It is a pretty city where I don't go enough.
I long underestimated Düsseldorf. It has so many different faces - between the romantic Rhine side, the quaint old town, the numerous show-rooms or the world-known luxury shopping street...
It is a city bubbling with new fashion, beauty, food & drink trends that can all be staged in unforgettable events be it with the Düsseldorfer skyline and / or the Rhine river.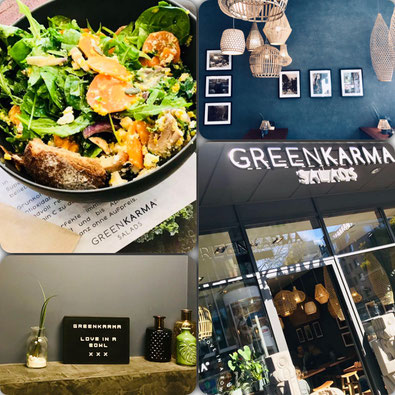 As we arrived at the main train station with Baby Lifestylette in her practical travel pram, we decided to head for lunch not too far away as we both were starving.
A short 10 minute walk nearly down the street led us to the trendy GreenKarma salad bar.
Or I should best say Bowl Food bar.
Later in the day I acknowledged that Bowl Food is one of THE trends in Düsseldorf right now - I still am not quite convinced as you can read in my post here.
Although the outdoor terrace was very inviting in the crisp autumn sun, as soon as I stepped into the restaurant, I decided against.
You enter a mix of cool & trendy interior design, mixed with healthy & relaxing Bali vibes. Breath of vacation here we come!!
We made our way to the counter where you can see most ingredients for your salad and were greeted in the most kindly manner. I settled for a seasonal mix with, amongst others, quinoa, sweet potato and goat cheese - my faves of the moment! Baby Lifestylette settled for her homemade turkey & sweet corn baby food.
I sat down on one of the lovely wooden stools and first took care of Baby Lifestylette. When she was finished,  I left her flirting with literally EVERYONE who sat there - she has recently started to wave and so will wave to everyone she sees, waits for them to wave back and then give them her most charming smile - whilst I enjoyed my fresh and crisp salad.
It was absolutely delicious, exactly the right portion of dressing so that the salad is neither dripping with sauce and splashing all over your new silk scarf, nor so dry that you quickly grab Baby Lifestylette's bottle and drink away some of her water.
Unfortunately I have to admit both of those happened already.
All in all I would definitely recommend this place: fresh food, great atmosphere, big portions and quite a decent price.
Yes! We definitely needed a digestive walk!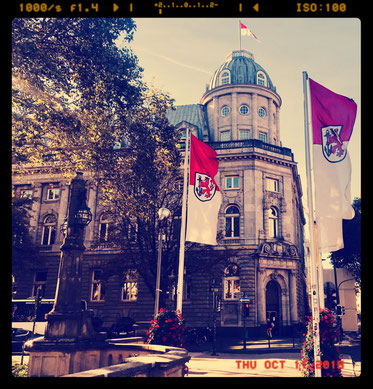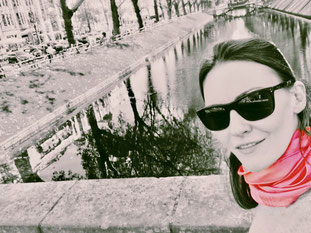 So we headed towards the "Kö", aka Königsallee and which is to Düsseldorf what the Champs Elysées are to Paris.
We walked along the canal window-shopping, really shopping, stopping to take in the calm and green atmosphere of the canal or that of the busy café serving its coffees and wines to those exhausted from shopping, and for Baby Lifestylette looking out for all the dogs we could.
She has "discovered" animals now and every animal is "wawa" for the moment, which she shrieks in delight when she spots one. Very cute I must say!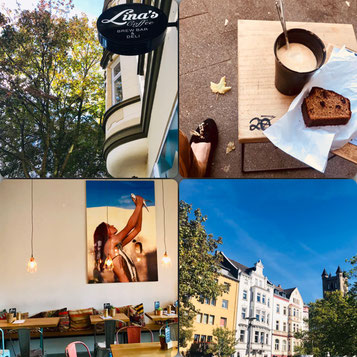 Deciding we had done enough activities for mother & daughter along the ca. 1 km long boulevard, we headed to a beautiful quiet little square which is about 10 minutes walk away.
We arrived to a mini-oasis after the bustling Kö, with beautiful buildings to stare at from a trendy & cosy little café: Linas Coffee Brew Bar & Deli.
I immediately fell for this place with its interior design which I would describe as industrial meets scandi AND with a giant picture under acrylic glass - we still haven't decided on ours for home. Therefore any place with a giant picture I like under acrylic glass attracts my eye. And reminds me that we definitely need to get that project also sorted out. Mental to-do-list please save.
We decided to enjoy our coffee on the cute outside terrace to suck in the atmosphere of the lovely Fürstenplatz. The girls of Linas were so kind as to bring me my Latte Macchiato outside with some freshly baked banana bread: yum!
Baby Lifestylette and I enjoyed our break, pulling faces, looking at the other guests and trying to get a feel for this Düsseldorf society.
It was so enjoyable and relaxing at Linas that I was a little disappointed as I looked at my watch and saw it was time to make our way to the train station...
Luckily we only had 10-15 minutes so we did not need to stress about getting to the train station on time.
We loved our little break in Düsseldorf and definitely could have stayed longer as we only made it to a small part of the town - hopefully we can plan the next trip and include going to the old city and / or along the Rhine river...