As the grey, rain and viruses are taking over again :( I caught myself day-dreaming of our sunny escape last week in Alsace.
Meeting up for a special birthday over a week-end, with 12 adults, 3 babies / toddlers, we had a full programme ahead of us to make everybody happy.
We stayed in a beautiful Airbnb in Colmar which was a perfect house to host all of us and had a huge living / dining room with open kitchen. This was ideal as we noticed, whilst entering, couple by couple, at different hours and joined for apéritif, dinner or dessert and could chat away, happy to see each other again.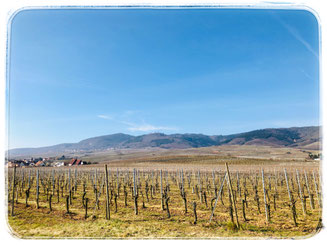 We woke up on Saturday morning to a bright blue sky, sunlight streaming through the window, ready for adventures in the crisp Alsatian winter. After a delicious breakfast full of croissants, pains au chocolat and café au lait, we headed off to a nearby village, classified amongst the most beautiful in France: Eguisheim.
On our drive there, we spotted a few majestic storks we were thrilled to show Baby Lifestylette - not only were storks an endangered species in Alsace until recently, but also they generally come back from Africa in March earliest, as sign of the spring to come.
We don't really know if she realized all this but definitely shrieked "couac couac" in delight!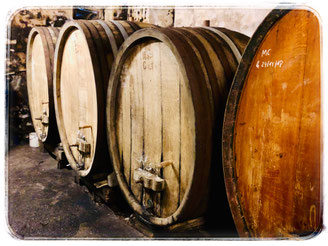 In Eguisheim, we strolled through the quaint little streets full of 16-17th century half-timbered houses towards the wine producer who had accepted to host us for a wine tasting.
Listening to his explanations on the production of Alsatian wine by many generations since the 17th century, we admired their cellar with typical wooden wine barrels, where glasses stood, invitingly staring at us.
After having asked all our questions, we made our way back up to start a delicious and varied wine tasting.
This was perfect as apéritif before going into the village for a Flammekueche...or two!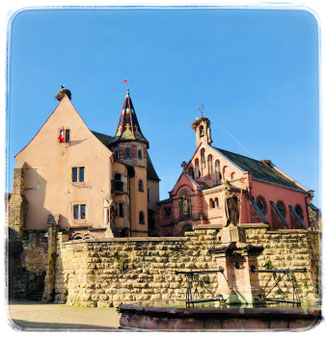 For those having rather enjoyed two or more, a digestive walk through the village was pretty welcome.
We actually spotted storks in their nests already on top of some houses and monuments - this was a big premiere for me and even dare I say pretty romantic.
Did you know by the way, that storks´ nests can even weigh over 500kg?
I certainly did not and would not have expected that much as I stood below, admiring the nests and their inhabitants!
And yes, unfortunately it was very difficult (and nearly impossible) to actually capture anything...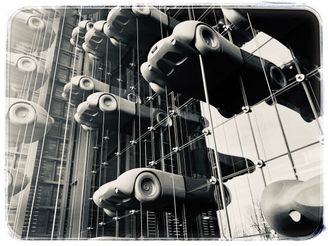 After so much stork-spotting, we all reached our cars for the rest of the programme. 
As the hero of the day is a huge fan of cars, we surprised him with an afternoon visit in the largest automobile museum in the world, in Mulhouse.
The museum interestingly started as a private collection and has become a huge world-known institution for car-lovers.
To be honest, not being huge car-fans, LFSTYLT husband and I were a bit sceptical at the idea of spending our afternoon here. As we arrived to the entry, we were confronted with pretty cool futuristic art which surprised us and made us want to see more.
Soon, we were swept off our feet by this gigantic collection of over 500 cars through automobile history.
It was a paradise for Baby Lifestylette to show off her new walking skills and she was delighted to run around this huge playground.
For us adults, it turned out to be a delight for the eye, even for those not necessarily interested in cars and I caught myself, day-dreaming at what life would have been back at the time...
...and then, brought back to reality, I watched as some big kids shared their bit of fun with their babies.
After such a full day, we headed back to the house for a home-cooked and 5-star dinner before, exhausted but full of new memories, our heads hit our pillows.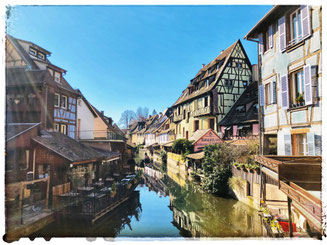 On week end trips, it is always difficult to prepare a real programme on Sunday as all leave at different times.
So we decided to make the most of it and I had made a strong point of absolutely wanting to see Colmar, aka Little Venice, before leaving.
I am so glad I did!
One could spend hours walking through the cobbled little streets, enjoying the covered market with some bread and cheese and some decent people watching, getting fresh pâtisseries from one of the numerous bakers and sitting down for a café au lait in the sun...
To name but a few...
It was magical and energising and I promise it was a difficult decision to make our way towards the car park.
As we hopped into the car to slowly make our way home, we couldn't help but wish to come back very soon to this fairytale and romantic town...