Perfect plans rarely work out how we had imagined.
This time in London, we had planned so much things to do – friends to visit, lunches, cafés etc.
But somehow, in a sleep-deprived phase and after a series of little inconveniences, we had to face it: we couldn't stick to our week-end plan.
That is especially hard for me ;) I love travelling so much and want to make the most out of a week-end with my two favorite people.
But sometimes, you just have to admit that forcing a plan when all are tired just makes no sense.
So we switched from a week-end itinerary to a balance of chilled London activities for young and not so young which still made our week-end perfect.
Here is our top 10 of things to do when in London: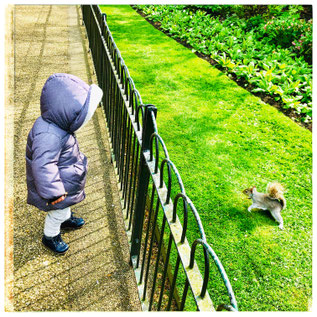 1.       Enjoy parks
With over half London being green space, you are bound to be near a park.
We spent lots of time walking through the parks, searching for dogs to stroke, looking at the beautifully kept lawns and flower beds, and had particularly lots of fun looking at the grey tame squirrels - and being careful that an over-excited Baby Lifestylette didn't point her finger too close to the little things ;)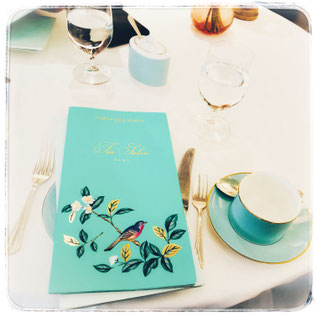 2.       Have a high tea
I long had wanted to treat myself to a real high tea and am so lucky that I have a husband who agreed to do this with me as he knows I most enjoy things when sharing.
There are lots of places in London to enjoy a high tea but somehow for me, my first had to be at Fortnum & Mason's. We had booked for the three of us online and enjoyed our afternoon in Diamond Jubilee Tea Salon. It was a real treat!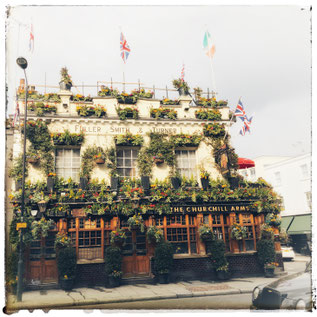 3.       Go for one (or a bunch) of pub meals
When in London, I find you have to enjoy the pub culture – I love it. Turns out the rest of my family does as well ;)
For Baby Lifestylette, it was great for people watching, napping and she actually even also enjoyed her bangers & mash ;)
We enjoyed this time around a summery afternoon with friends – pints made our husbands happy, the ladies preferred coffee & cake at that time of the day.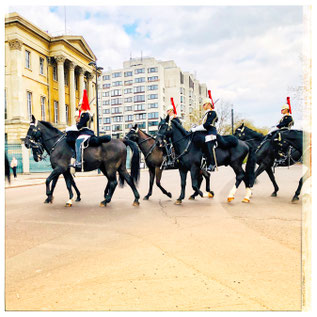 4.       See some royal attraction
The good thing is, when in London, you needn't go far to spot some kind of royal-linked attraction.
Here we were, walking along one of the main parks, with that jet-lag feeling you get when woken up early, sleep deprived and you basically are like a coffee-functioning robot and all of a sudden experienced what turned out to be quite the attraction for the whole family.
A police escort was making way for something or somewhat and we were unsure what. Excitement making spreading across the random crowd of tourists - was the royal baby going the be announced? No! Just a troop of horse guards needing to cross the street and being accompanied by the police!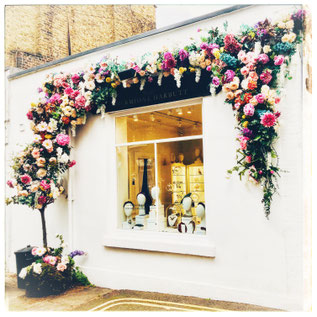 5.       Go shopping & window shopping
There are some shops I love to go to when in London - some for the experience, some a little more down to earth for regular things that I just can't find in Germany.
Harrods is always a must ;) I believe that no London trip is complete without a little jump over to Harrods.
I also enjoy window shopping especially of all the beautifully decorated little shops - I hadn't been in London for a while and big flowery decorations seems to be quite the thing.
Last but not least - I love to head to M&S as well as GAP which have great items for the little ones.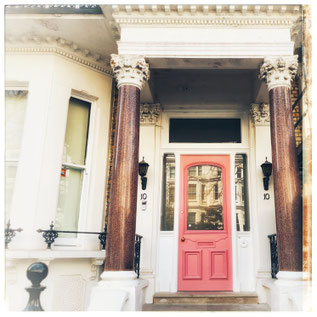 6.       Enjoy house watching
I have always loved houses in London and daydreamed that some day, maybe I would also be in one of those beautifully kept, pastel-colored houses.
Years ago (sigh!) in my studies, I discovered Notting hill and its colored streets –  I have the impression it has become even more over the years. In any case, I love some good interior (and exterior) inspiration.
Now in the glorious times of social media and Instagram in particular, house watching has become even more fun as there is a new aspect to it: scouting the houses and pretty neighbourhoods as well as those taking the perfect picture in sometimes...err...interesting outfits and poses ;)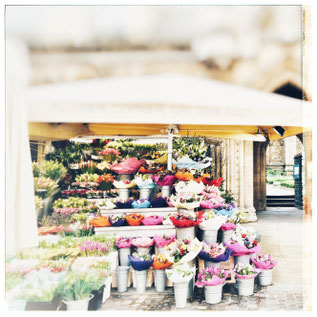 7.       Buy flowers or just admire them
London is one of the most flowery cities I know - between its parks, corner florists, shops etc.
I could stare for ages at the beautiful flowers and floral arrangements which are also source of inspiration for my next bouquets.
And if your children are like Baby Lifestylette, she loves to look at flowers, delicately strokes them and sometimes also just wants to smell them ;)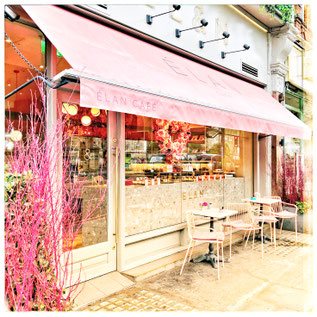 8. Enjoy a café
I still haven't decided what is best with all these cute cafés popping out like daisies all over London: the inside or outside.
They already look like delicious pâtisseries from the outside so that you are confronted with overchoice and it makes it so difficult to choose in which one you will actually enter?!
Once inside, you have the feeling that you just entered the chocolate factory from Charlie and the chocolate factory - except that you are not reasonable Charlie but one of the other greedy kids ;)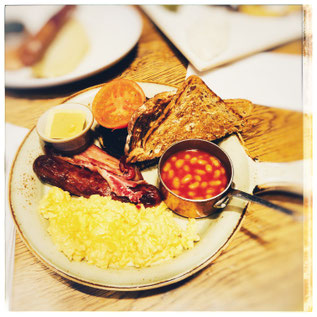 9.       Try a real English breakfast
I have always loved a good old English breakfast – and even made my family try marmite ;)
If I didnt really convince them with the latter, I did at least have more success with the English breakfast.
Great also to cure a long pub afternoon the day before or as lunch for early birds such as ourselves nowadays!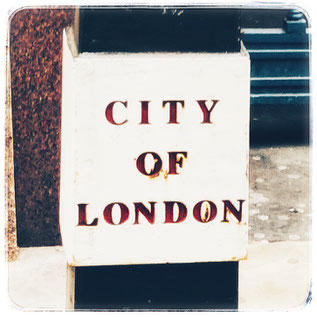 10.   Get a business-man city-boy feel
We really wanted to see where LFSTYLT husband always is on business trips and get to see HIS London.
We went there on a Friday and the buzz was so strong that I actually got the feeling I just needed to enter one of these offices and go work as well.
More seriously, I discovered quite a few cute cafés, shops and restaurants I did not know yet and very much liked the architectural mix of modern towers and elder brick houses...