As we finally sat down in the Boeing that was going to fly us to our sun-filled vacation, LFSTYLT husband and I looked at each other and smiled.
The very first flight prep with Baby Lifestylette less than a year ago had run slightly less smoother :) what a difference!
Over less than a year, with flying a lot - sometimes alone with her - short, medium and long flights, we have managed to optimize our packing skills with her which makes the journeys far less stressful. 
Here are our lessons learned and flight essentials we swear upon!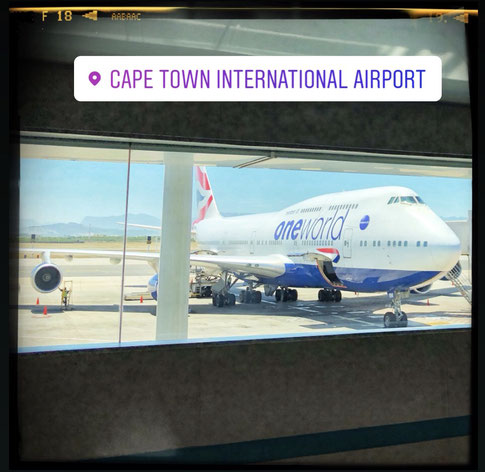 1) Invest in a baby carrier
...I should add that you feel comfortable with. The first we had bought proved to be so difficult to put on with the wrapping around yourself and baby nearly falling out in the entire process every time that we never flew with that one ever again. 
We bought another model via eBay that we had tested at friends' and this one is so easy to use, Baby Lifestylette feels safe inside and even when I flew alone I could easily get her in. We actually use this one also for walks where we can't take the stroller.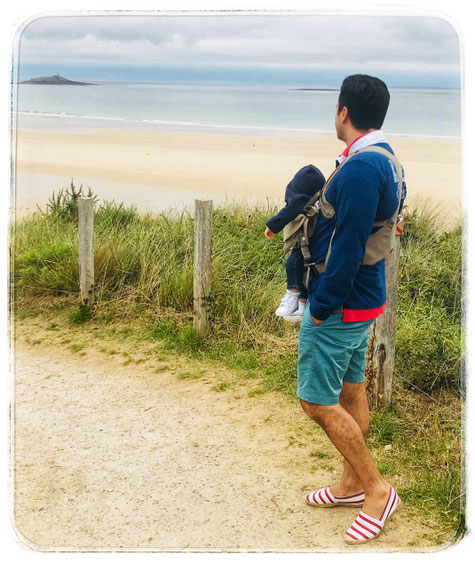 2) Practical diaper bag
We had first bought a pretty diaper bag which we would attach to her stroller - it was pretty, minimalist design and all and you could fit lots into it.
It also proved very unpractical to transport on the first flight between LFSTYLT husband backpack, my handbag, herself and whatever else one also picks up in the airport.
Wiser, we then decided to purchase a backpack that LFSTYLT husband could also use as I generally don't like backpacks nor looking 'practical'.
We tried stuffing her things inside and it proved a catastrophe.
Only half of her travel essentials fit in.
The only comfort being that LFSTYLT husband actually does use it for other things on a regular basis.
Wiser still, we found on Amazon a really practical one which even looked good and stayed affordable.
Everything she needs fits in - bottles, water on the side, baby formula in the central part, her documents, changing clutch, pharmacy essentials, etc. 
It can be attached to her stroller as well as carried as a backpack.
So before boarding I carry it as a backpack, attach her in her baby carrier and fold her stroller.
Also this counts as Baby's carry-on - just in case you are managing lots more items than I do!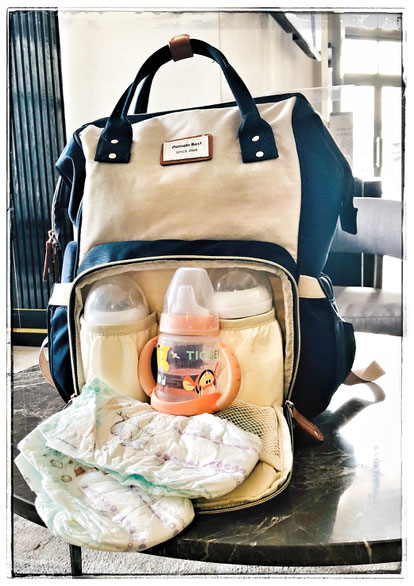 3) Travel diaper clutch
We actually received Baby Lifestylette's diaper clutch as a birth gift.
We immediately fell in love with it and since then this is one of THE birth gifts that we offer - we get ours made from an Etsy shop where you can pick colors and have the name embroidered.
After a year it still is one of the most useful gifts we received as we discovered parenting and handling different logistics!
Hadn't we had this as a gift, we most definitely would have purchased one, after probably juggling between diapers, wipes, the Baby etc. You have everything you need and can tuck it under your arm whilst going to change Baby.
Additionally to diapers and wipes, we also put sanitizing wipes, cream and plastic bags in case the body gets completely ruined - I actually had to throw one away on our first long night flight with her, not having anything to put it in...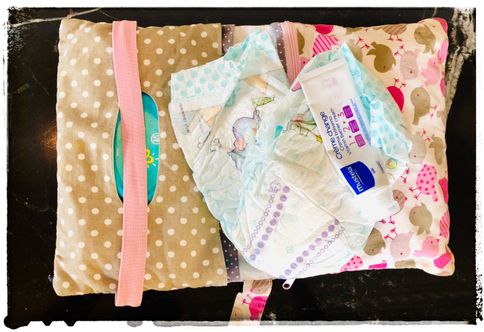 4) Stroller
On this point we actually really invested.
We bought a great stroller before our trip to Asia in the summer and 1) didn't regret, 2) constantly kicked ourselves why we hadn't bought this earlier.
We purchased a model which folds very easily and can then be carried over your shoulder - if you are really precise you can even put it in its bag which is hidden within the stroller - and is allowed as carry-on on every plane. (By now, so many people know the brand that the check-in staff in Cape Town straight asked if it was that particular model so we don't need to explain any more that this is cabin luggage).
We are so happy with this stroller. We actually use this one on all our trips, also when we drive back to France as it is such a space saver. Also it is very light which allowed LFSTLYT husband to carry easily up and down all those never ending stairs we had in Seoul ;-)
What we really like as well is that it doesn't have to be checked in - the bigger buggy we have for 'normal' times has got broken so many times in flights -- even where we had asked for gate pick-up. At the end of the day, you rarely get your buggy at the gate upon arrival and it arrives partly broken at the special luggage end. Luckily ours was second hand so even if it was really annoying, it definitely hurt less every time something got damaged...
5) Liquids
When travelling with a baby, one is mostly privileged as far as security check is concerned. In nearly all airports we have been, we have received special treatment in that one is picked out from the crowd and shown towards the priority or family lane - if there is one.
That makes it more comfortable as you have to get out all the liquids of the bags, the stroller needs to go through security, etc.
We had different experiences in different airports for liquids. We generally always prepared a thermos can as well as two (when she was smaller three) baby bottles full of water - taking the formula separately. We were lucky to nearly never have to pour those away -- exception as of today is Cape Town.
In any case, we knew that all airports sell water that can be used for baby food preparation and one can get hot water on the plane - just in case.
We also always take with us on the plane pharmacy liquids such as saline water and nose drops (in case she doesn't drink for take-off and landing); as well as some baby food - today we take the fruit squeeze packs which she loves and is of great help in case she gets hungry and food doesn't come quick enough.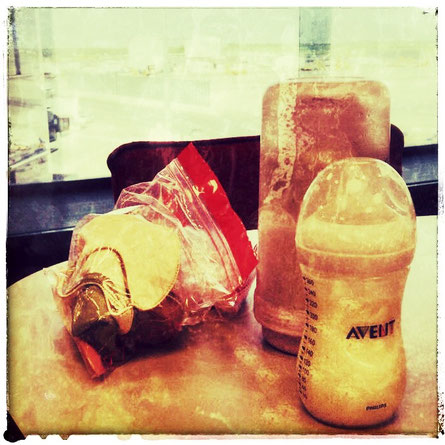 6) Toys
Ever since Baby Lifestylette has been flying, we take a range of ca. 10 small toys with us which will keep her busy in the non-sleeping times.
As we know that she will be confronted soon enough to screens, we are aiming for a screen-free raising at the moment so do not distract her with smartphones nor tablets and therefore are opting for the less voluminous but still fun toys and it turns out most of those we have been taking since the beginning are still occupying her.
The classic ones we have are a toy to chew (she loves the famous giraffe and the entire range so we often have 2-3 different ones from the same brand); 1-2 books (for the first flights, we had a bath book she would chew on as well as a soft book with lots of different items to touch); small finger-muppets or wrist rattling toys; a stuffed toy, a ball (at the moment, the fabric one is loved; but we used to take the plastic easy to grip one a lot as well). Additionally she just loves observing and playing with tissue packs, small cosmetic bottles, etc. so we will hand her those one by one to vary the pleasures ;)
And of course the classic pulling silly faces, playing peek-a-boo etc. always works. We also always have her comfort toy which in our case is her favorite t-shirt ;)
plus classic pulling faces etc.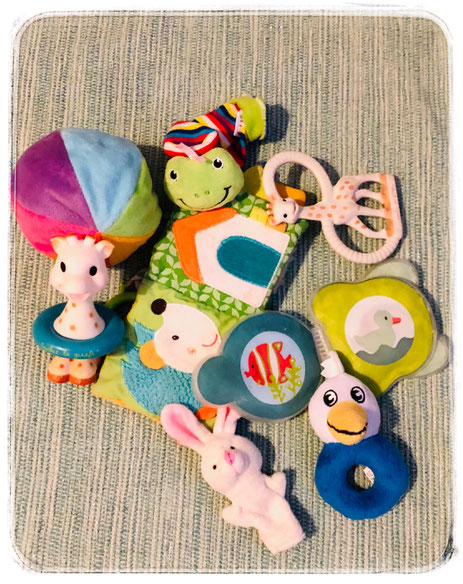 7) PJs, Hoodie and Blankets
Especially on a long flight (and night flight), we change her into her pyjamas so that she recognizes at least part of the evening routine and understands that somehow she is going to have the long sleep.
When she was smaller, we also took her sleeping bag, but it turns out that she doesn't mind sleeping without in the plane. We opted for a hoodie as it turns to be really cold in the 'night' and somehow every time we had the baby bassinet, the air conditioning was blowing pretty much in her face. In one airline, the baby bassinet is installed with a hood which is great, but our experience shows that a lot don't provide this and you will be happy that your baby has her hoodie. Also we take her circle scarf to make sure her neck is nice and warm.
Finally we have a merino square blanket which fits in any bag and can be wrapped around in any flight in case the air-conditioning is too strong - it also smells of her which reassures her.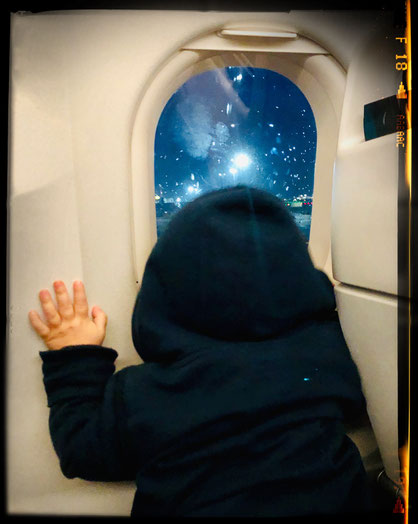 8) Flight planning
Whilst not an essential per se, this has been of great help :)
As soon as we book our flights, when long flights, I invest the time - even if it can take for ages - in calling the customer service and ensuring we have a baby bassinet booked for us.
This is a life saver for our long night flights and given that we have got Baby Lifestylette used to sleep in them early on, it makes a huge difference.
Some companies will charge you extra - but it has been worth every penny! - whilst others won't, there really is no rule, but you definitely need to ask early on as booking the baby bassinet is inevitably linked to reserving front row seats (which is where the bassinet is attached) which are much loved by tall people also flying economy :)
Be aware however, that not all companies have the same bassinet, I know this sounds logical, but we had gotten used to a certain type of bassinet and were a little destabilized on our last flight with the so-called bassinet more looking like a baby bouncer. More than ever we were glad to have her hoodie and blanket!
Also if your baby is already eating, you can ask for a baby meal - depending on the baby's age, you will have a pureed meal or kids meal. This service has been really appreciated.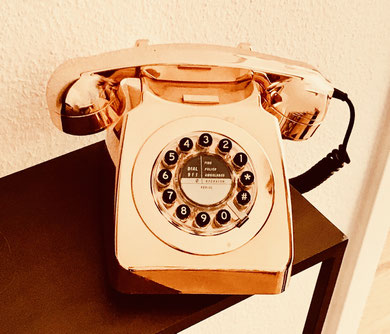 9) Car seat or not?
Having done both, the answer for me after all these flights is it depends - I know this is not very helpful so let me try and explain.
When travelling with the car seat (we bought the adapter for the stroller), you have to give up both items -- car seat and "stroller frame" at the gate. Also, as it is not recommended for baby's back, you have to make sure that during the trip you are going on, you will be limiting the use of the stroller then and using more the carrier (except very few stroller models which actually can have the car seat adapted on top of the regular stroller).
When we flew to Spain, we opted for this solution as we knew we would be needing some taxi drives and would have 2-3 walks in town but also knew we (and our backs) would carry her in the carrier a lot.
When we flew to further destinations, we always checked the regulations and prepared the journey to ensure we would have a car seat for necessary rides but none more. For instance in New York, we easily booked in advance a taxi with baby seat (of course you have to pay a little extra but it was worth it and not having the baby seat all along) - but otherwise mostly got along with carrier, stroller and subway. In our latest journey, we rented a car with baby seat so that was an easy one as when we went out, we just ordered a taxi or Uber and took the car seat with us and back.
Maybe this is more helpful - in the end, I think our rule was early and short trips we did with car seat when a taxi from the airport was necessary; and bigger trips we just booked taxis with baby seats in advance and would manage there.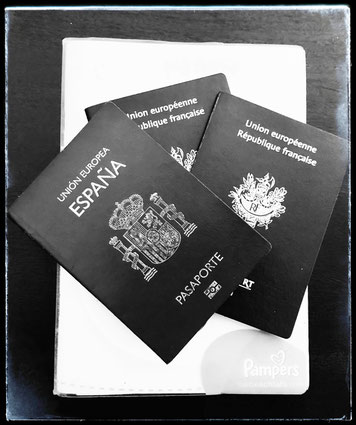 10) Essential travel docs
Beyond the obvious passports, we always travel with Baby Lifestylette's health booklet which includes her injections - you just never know.
More importantly, I always check the regulations of the country we are traveling to - even if this seems nerdy, some regulations are so new to us. For instance, when we flew to South Africa, we learned via research that you definitely need an original birth certificate of your child - with English translation. 
Honestly, we were so glad we had done that bit of research and could find the original early enough at home as even then as we handed it over at the passport control, we still had a 'pang' in our hearts, hoping that this was the right document and we would be let in...imagine spending your vacation in the airport!!!
And last but not least, don't forget to think of yourself! LFSTYLT had wished for Christmas some noise-cancelling headphones after amongst others, a terrible night flight where Baby Lifestylette slept through but the other kids of the plane did not...