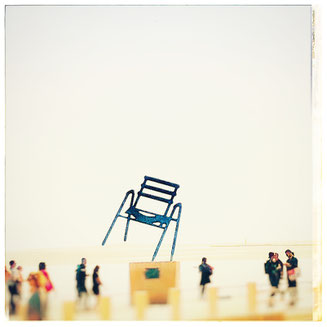 Nice has been on our bucket list for ages, so we were really excited to be flying over for the first spring week end of the year!
We had a tough programme ahead of us, given that we were meeting up with the same group as in Alsace - and also for a birthday! - so we saw this trip more as a first discovery.
Landing early on Friday evening, we made our way to the city center where we were staying - with the tram we did not even need 20' minutes and it was so practical not having to deal with baby car seat issues!
After checking in & having freshened up, we made our way through a lively city, enjoying the deliciously mild weather. I had the impression to be in Italy again!
It helped that we were joining the rest of the crew for a delicious dinner at La Pizza Cresci where we had booked a huge table. We all ordered pizza which was one of the best I ever tasted - the city was certainly living up to its Italian origins!
On our way back to our different places for the night, we of course dropped by for an ice-cream to accompany us. Stars above our heads, ice-cream in our hands and life all around us: what more did we need?
Sleep ;)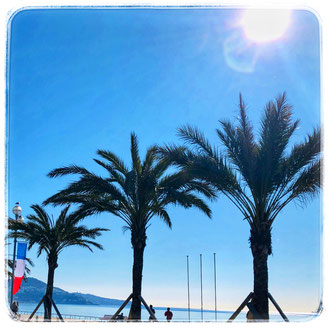 Although somewhat sleep deprived with a teething toddler, we got out of bed energized by the sea view, the rising sun streaming through our windows.
After a quick breakfast, we made our way to the corner of the street to at last discover the endless "Promenade des Anglais".
It was pure paradise: walking along the blue sea with a clear blue sky and nearly summer weather. Perfect for baby strollers btw. as well as for a 7km jog ;)
We made our way to the renowned Molinard Perfumer where we had planned our first activity for the day. Not only is perfume a true "French thing", but the heart and origins of the industry are actually located in Grasse, nearby Nice.
Therefore creating a French perfume on the French Riviera was for us the ultimate chic and one of the highlights of our week-end.
We had booked tickets in advance for a discovery workshop, including the creation of our own perfumes. Upon calling, we were told that our children were welcome (unfortunately the workshops for children start with 3 years and ours were definitely well below that!). Nevertheless, surprisingly enough, the male members of the crew preferred to skip that activity for walking around with the kids - probably sipping some beer in a sunny terrace but that is just speculation ;)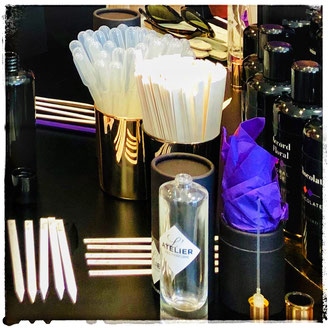 I loved the workshop. It was great to get a sense of how a perfume is made & be able to sniff our way through all sorts of delicious scents.
How funny though, I found that lots of my first choice scents smelled absolutely repelling when opening the bottles!
We had a great time and were thrilled to each have our little bottle of perfume when leaving the store :)
I decided on mixing scents of almond, pear, ivy, cotton and water flowers - I adore the sea and anything remotely reminding me that smell. Such a random mix!
But I felt like such an artist and am actually pretty in love with my new French Riviera perfume.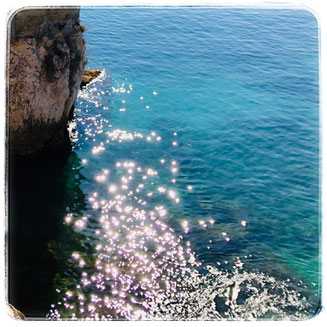 Of course much to the irritation of the rest of the crew, we were late and had to postpone lunch.
We had secretly organised a very special lunch in a very special location to celebrate the birthday. 
The walk from Molinard was another bit of paradise - LFSTYLT husband and I could not believe our eyes and by now were totally in love with Nice.
We walked along the Promenade, then around the Marina and continued walking along the sea.
Heaven.
Pure.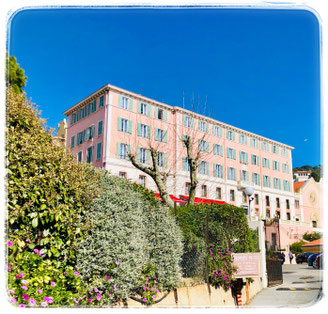 We arrived at Le Saint Paul, originally a hotel, where lunch was awaiting us.
We enjoyed a three-course haute cuisine lunch with a sea view basically stretching from the far left to far right - there is no better description!
We found paradise with extraordinary food & excellent service - another highlight of our week-end. This day was getting better by the minute :)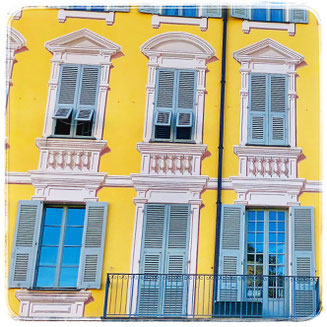 After such a typical long French lunch, we definitely needed a digestive walk so we decided to head back to the hotels via old Nice which we hadn't really seen anything of yet.
We didn't follow a map or anything so probably a real tourist guide would be horrified that we missed out on stuff but we just enjoyed getting lost in small colorful streets of the city which, by now, we had baptized "Little Rome".
We were impressed by the amount of beautiful art works on the buildings - all around town were some of the best (and biggest) trompe-l'oeil I have ever seen. You really have to be looking for them to see them though, they look like real windows and sometimes to make it even more difficult mix real with trompe-l'oeil ;)
Our walk took us through Place Garibaldi and Place Masséna and then back to the Promenade des Anglais along which we walked, heading slowly but surely, in the afternoon sun, towards our hotels.
Pretty exhausted, we had an early night with dinner in the same area as the night before, making sure we wouldn't be at the hotels too late for the little ones.
After all, there still was an entire day of wandering around ahead of us ;)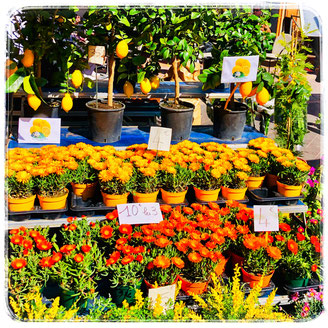 I had read about the flower market of Nice and really wanted to go. So, waking up early on Sunday, we headed off along the Promenade towards the flower market, Cours Saleya.
Really lucky with the weather, we strolled through the market, full of flowers as well as orange and lemon trees - so big that LFSTYLT husband thought they were fake ;) - and Mimosa. I absolutely adore mimosa and we have had none to see in Frankfurt - if it weren't such a delicate flower I would have loved to take a huge bunch back on the plane with me.
We stopped for coffee to sink in the buzzing atmosphere and scents of the market, before wandering through other small colourful streets of Little Rome.
Hadn't we had a meeting time for lunch, I would have entered every little shop: bakers, sweets, lavender and lots of small cute shops...I could easily have spent the day here!
Fortunately for my purse, we didn't have time and headed towards the restaurant we had booked for a quick lunch on the terrace of a small place.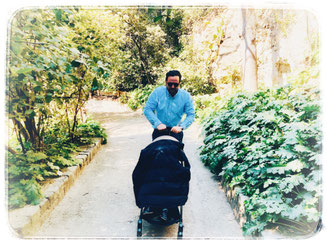 As I enjoyed pizza (again!), I was really up for some exercise after that and had heard that one of the best views of Nice was from the Colline du Château.
There is a lift for those with prams, but I was very lucky that LFSTYLT husband was also up for the scenic walk up and therefore carried the stroller for the some steps that we encountered here and there  on the way up.
And I am so glad we took that way as the walk up was almost as beautiful as the view from the top. 
Arrived at the top of the mountain, we were speechless faced with such a stunning view over all Nice. From above, you can see the entire city, the mountains in the background and the entire Baie des Anges. It is absolutely amazing. 
From the other side of the mountain, you can get a gorgeous view of the harbour and can actually take that way back down if you want to catch the Promenade at the iconic #ilovenice sign ;)
We took that way for a long last stroll in the spring-summer sun before collecting our luggage and heading to the airport...truly madly deeply in LOVE with Nice and screening our phones like crazy for a potential follow-up trip soon!
#ilovenice aka Little Rome!