A few days after our surreal stay at Casona de Quintana, we were allowed to experience a new type of family-owned vacation.
We were making our way up to my beloved Bretagne along the Basque coast.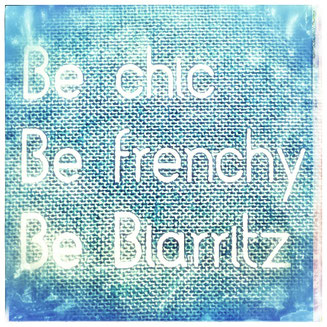 Whilst planning our road trip, we had so badly wanted to definitely stay in Biarritz but unfortunately booked far too late...
After hours of research, it soon became obvious that either we would pay a ridiculous amount for a hotel in Biarritz, a still ridiculous amount for a mediocre looking hotel in Biarritz surroundings (and we really went far with the surrounding area) or have to abandon Biarritz.
Should I mention that holiday rentals or Airbnb was in similar price ranges as well?!
Being the obstinate person I am, I refused to let go as easily and managed to find a web page for guest houses in France - again hours of research - and changed the targeted area to a broader one: the entire Pays Basque (French side and including an area more far away from the sea).
Thanks to these hours of research, I actually came across very pretty villages which would help broaden the trip not only to the west coast but also quaint villages worth seeing.
After 2-3 days and calls all ending in a "too late", I went a little farther than I had planned and here again, did not regret. The owner was ever so kind on the phone and asked for what seemed a reasonable price per night after all I had seen the past days...
2. Guesthouse Maison Marchand in the French Pays Basque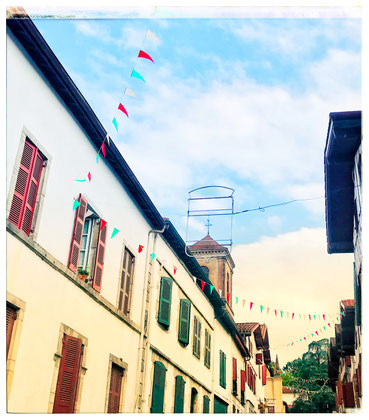 So there we were, reservation email in our phones and arriving during siesta time in what seemed like a ghost-village...
We had the impression that either we had arrived after a cow race had stormed through the village with its fiesta banners and lights hanging above the streets, or were just about to be run over by the aforementioned.
We wondered if we should turn around but found the huge typical Basque house in the main street. Not really finding anywhere to ring the doorbell, we knocked before opening the door and realized we had quite literally barged into the living room of someone napping. Thankfully it turned out to be the owner of our guesthouse.
We had woken him up.
And had entered in his private living room.
This was all not quite starting as I had pictured - I felt so embarrassed...
We left our stuff in the quaint Basque house and decided to go for a walk in the village - using the stairs on the inner garden side this time!
Whilst leaving, Gilbert, our host, reminded us that apéritif would be served at 6pm.
We were surprised: never had we experienced the owner of a place we were staying at invite us over for apéritif - should we go or was this just politeness?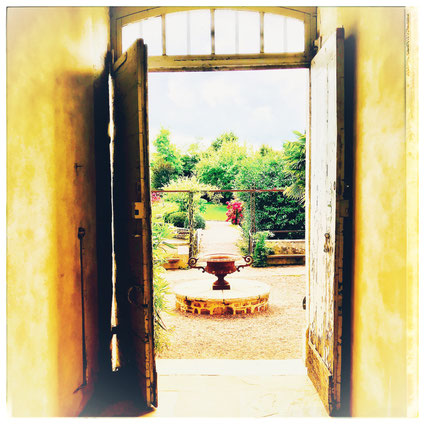 We discovered La Bastide Clairence, which is classified amongst the most beautiful villages in France and still has lots of craftsmen of all kinds - painters, weavers, perfumers...
We then went back to the guesthouse and prepared ourselves for going out for dinner. Valérie, our host, reminded us that apéritif would be served at 6pm...we still were unsure if this wasn't just politeness and didn't want to disturb them, but decided to drop by before going out.
We were so glad we did: it was ever so generous and kind of Valérie & Gilbert!
They had indeed invited us for apéritif and apparently do this with all their guests as welcome.
They explained to us a lot about the house and region, showed us lots of routes to explore over the next days - all adapted whether traveling with child, according to preferences etc. and giving us so many insider tips that we would never have found out otherwise.
They also made sure to let us know about the local restaurants and if we had booked. 
We ended up staying far longer than expected and even left a little late for our dinner reservation!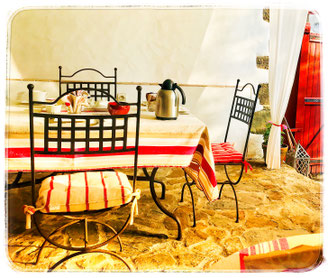 In the morning, breakfast was served in a beautiful patio with every room having its own table dressed with pretty Basque linen tablecloths and napkins.
Here as well, breakfast was more of a feast than only a piece of baguette and coffee! We felt so at home that we could have stayed for bowls of café au lait had we not had a daily programme to discover the region!
Baby Lifestylette also wanted to stay for hours during breakfast as, to her thrill, a calico cat was part of our hosting family. It was ever so sweet to see that the cat would even sit down under her chair and wait for her in the mornings...
Unfortunately, as always when feeling at home and relaxed, time goes by too quickly and we soon needed to head off further north but definitely kept our little address in La Bastide Clairence!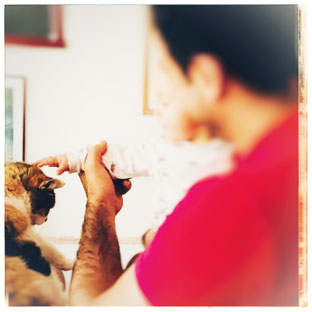 If I would sum up what we loved about our stay here, it would be:
living in a real and typical Basque house with a Basque host - Gilbert is from the region - and in one of the most beautiful and quaint villages in France
the very personal attention to well-being of all guests, at apéritif, at breakfast which made us feel at home
Mimi the cat - this was a particular moment as Mimi not only gave special attention to Baby Lifestylette but also was the first cat she ever stroked!