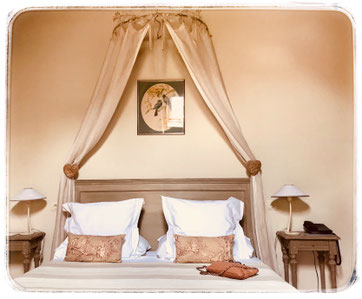 We seem to have discovered recently a new type of accommodation we particularly appreciate on our travels.
When I look back at the time LFSTYLT husband and I met, I can't help but laugh out loud at some of the accommodations we experienced. One of our common passions is travelling. When we met, we would save all we could to travel - a lot of small trips within Europe, one long distance trip a year. It cost us hours of research to find the cheapest deal, sometimes travelling via airports kilometres away from our final destination :)
With regard to accommodation, we would also check out the cheapest deal with one condition only: location. With location we did not compromise. 
And so we ended up with lots of fun stories of sometimes absurd places that we laugh about today and hopefully still will for lots of years to come.
Today, we still look for the best deal, but I have had such back-aches for some time now and my sleep has become so light (and bad) that we can't camp anymore in too budget a place. When planning, we typically will compare hotels, airbnb and guest houses.
And increasingly, we have found a new type of cross-category accommodation we absolutely love: family-owned places.
We have recently lived in three different types of such accommodation and all were grand. We loved them so much that we wanted to share our experience - however remembering got me into writing so much that I broke this post down in a mini-series.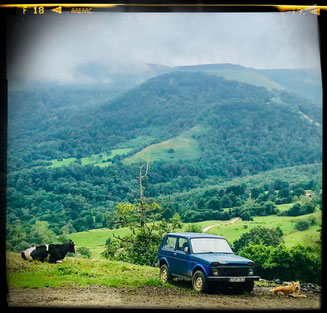 1. Boutique Hotel Casona de Quintana in Green Spain
After hours of unsuccessful research for a quiet quaint place in the area of Picos de Europa / Cantabria, we couldn't believe our luck when we came across what seemed like paradise and which was also available at exactly our dates.
We were a little nervous as we drove up the scenic mountains - and increasingly away from any town - the pictures in the internet were gorgeous but the price just seemed to be too good a deal?!
Coming from too hot and busy Santiago de Compostela, we were really craving a quiet boutique-hotel-feel retreat - and some sleep!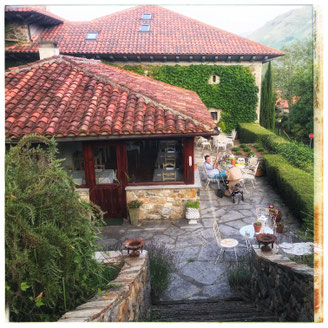 We arrived to a breath-taking stone house, surrounded by mountains and immediately felt we had arrived in paradise. Was this place real?
YES! and very much so! And it really did look like the pictures!
We checked in the reception where we were introduced to Jose and Nuria, the couple owning the house and running the hotel.
They were ever so kind and explained to us all about the house, the renovations, the furniture - they have beautiful real antiques, very tastefully placed in the entire house - and the surroundings.
We couldn't believe our luck.
Believe it or not, we were not at the end of our surprises.
We had arrived late afternoon so, after a walk in the surroundings, we showered and went down for dinner. Yes, you read me correctly. Given that the house truly is in the middle of the mountains and the nearby villages some driving distance, they serve every evening a freshly cooked (and new) menu - Nuria's food is real gourmet dining - with of course an excellent wine pairing if desired.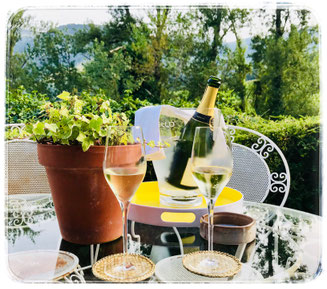 Instantly feeling at home, we asked if we could first have an apéritif; cava maybe?
And as the outdoor terrace viewing the mountains looked so inviting, could we have it served outside?!
All wishes were possible and what's more - they even offered to store the opened cava in the fridge in case we wanted to switch to wine and have the rest for the next day.
We hadn't been here for three hours and were already totally relaxed.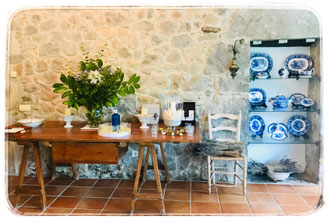 In the morning, you would be served in the same dining room what Nuria & Jose call breakfast, but would best be described as brunch.
It was huge and personally brought to your table - every day some new delicacies to taste - and you were provided explanations to everything laid before your eyes.
And all of this with a family feeling coming on top, Baby Lifestylette was always being smiled at, we never felt unwelcome or uncomfortable.
Nuria & Jose also perfectly managed the oh so difficult mixture of being present and friendly with their guests whilst not intruding in our vacation - it was paradise!
And the first time we decided we actually liked a family-owned hotel or guest house and would definitely do this again!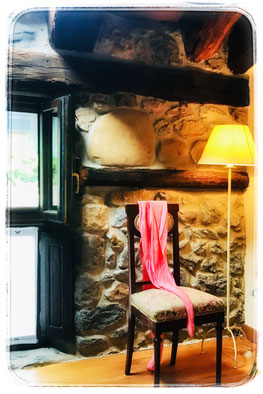 In summary what we particularly appreciated here was:
The architecture and interior design; a sort of French look and feel and real antiques all tasteful and unique, very different than any hotel we had seen. We clearly could feel that these objects had been carefully and lovingly searched for and collected over the years and that this couple definitely is passionate about them. 
Also their passion for personal attention and their guests' well-being. All these little things: the apéritif on the terrace with the bottle kept in the fridge for the next day, the daily breakfast, the explanations for any sight-seeing, etc. contributed to an unforgettable stay.