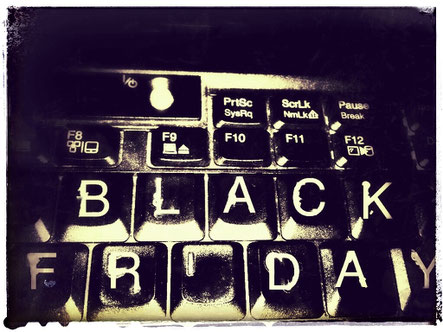 The internet and just about everyone was asking me: are you planning on Black Friday? Did you get your codes? What did you shop? (And don't get me even started on Cyber Monday!)
This is pretty new for me: I had heard about the big Black Friday sales in the US; seen some videos of people going crazy and basically the decadence of human beings becoming animals fighting over "stuff".
And maybe I wasn't in this world the past years but I have a feeling that continental Europe sales savageness was limited to twice a year - and already that is changing with the so-called mid-season sales.
We generally shop our stuff on sale (twice a year, slowly changing with mid-season sales) and once a year we go to an outlet.
It usually takes an entire day with the driving down there, entering all shops etc, and crowds stress me so we really limit that "shopping experience" to once a year. 
We have the shops we always go to and get the job done with coffee and lunch in between: business socks, shorts for him, household stuff - every year we slowly extend our now adult household -, business clothes for her and sometimes sportswear. That's basically it.
So this year when we received an email with lots of advertising for extra Black Friday rebates, we decided it would be silly to miss out on an extra rebate and then we would have the yearly outlet visit done with.
We got up early and by the time we all were ready to go it was lunch time -  just kidding but pretty much in that direction!
We arrived at the outlet and first sat down for a coffee and croissant. The place was crowded. And I hate crowds and pretty much panic but still this was supposed to be worth it, right?
Queues outside of the shops. This was sheer madness...thank goodness Baby Lifestylette was our ticket to enter the first shop as a kind doorkeeper waved us in.
I accompanied LFSTYLT husband towards shorts slaloming with the pram between crazed people and stuff just tangling down from all the shelves which usually are pretty boxes in a pretty row.
Pram and I started queueing at the cash desk as LFSTYLT husband picked his 5 boxes for the year. 
Impatient as I am - and getting sticky packed in our thick winter gear: Baby Lifestylette was fidgeting and I boiling - I wondered why on earth people would in this rush start a conversation with the cashier?
I could only hear half of it but seriously, how long do you need to just pay for three polo shirts?
As LFSTYLT husband arrived, Pram and I bolted towards the exit.
Gasp! Fresh air finally!!!!
Next stop: winter shoes we had promised we would have a look at for relatives. Craziness was here as well: all those brown boxes opened, emptied, lids scattered all over the place, people shouting and running : this was an absolute nightmare!
Leaving my two in a corner, I made a quick call to check with the relatives if they would take another boot type as well, hoping the answer would be no so we could rush out of the shop...and then oh! my! goodness!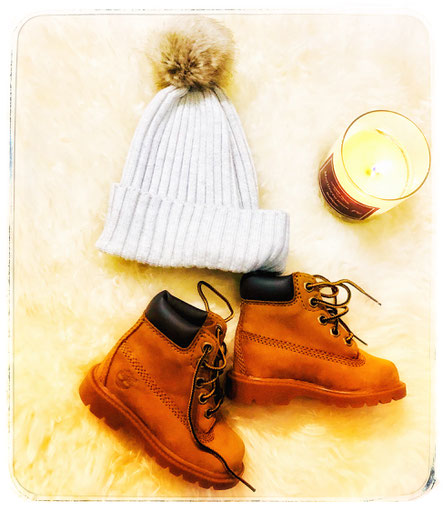 How perfectly cute were those tiny size 5 boots! 
And Baby Lifestylette really needs boots.
And there is an extra rebate for Black Friday on top. 
Yes ok it is a little more expensive than others I could buy. But look at those they are so cute. 
And I have the same.
And she would love them I am sure.
And winter will be cold.
Yes...I cracked under pressure!
I broke my rule and impulsively bought her a pair of cute baby boots.
And they really are worth it.
And I love them.
Really.
She was thrilled to have them straight on - or maybe not, but we were to see them on her!
Happy from this cute buy we continued to get our household stuff: quick and dirty and truly an excellent bargain. Check!
We were heading towards business clothes for her when we saw my brother queuing for some winter coats.
I hadn't had that brand in mind to be honest when looking for mine. My old winter coat basically lost all of its warmth so I need a new one. I have been surviving with my maternity coat from last year which already then had enabled me to not impulsively buy just any kind of coat.
He told me this is such a warm brand, this is the best, blabla, I was really starting to wonder if he wasn't getting a commission on coats sold!
I wasn't going to buy anything so given there were maybe four people queuing behind him, we just came to his side and waited with him.
Of course, we were immediately verbally aggressed by the person behind us. This is really not ok! Yeah, right, you belong to these guys! Here you have to learn to queue! And so on...
Did he think we were going to take away his sweet deal? (And one only had to wait in that particular queue for 5 minutes...)
If it hadn't been for my brother, I would have stomped off right there. 
After the 5 minutes announced, we were all allowed in. So much wasted energy for nothing. 
We entered the shop which was thankfully more airy than the others - Lifestylette family stayed in a front corner whilst the brother was checking out coats.
Not wanting to stand there stupidly and wait, I decided to check out coats myself. After all I needed one, even if i didn't really know this brand and had another type in mind...
Oooohhh some really were very soft and fluffy; I loved that! 
I snooped around with nothing particular in mind and a jacket nearly jumped into my hands with such a romantic color name: midnight blue oooooohhhh! I could hear the wolves or huskies howling in a snow covered field...
Uhoh...I could sense midnight blue and I were falling in love...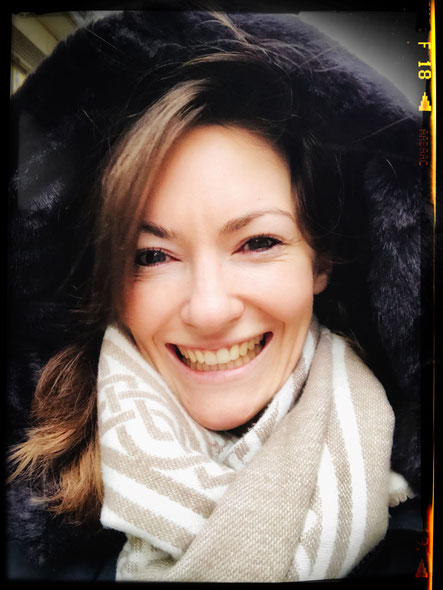 I loved the name and kept repeating it in my head, oblivious to the craziness around me.
I tried it on and it felt great! And oh! a little belt to not make you feel like the well known tire man. 
I think I found my coat. 
Was it puffy in the back? Really? Noooo stop exaggerating!
Anyways there isn't any smaller size left so let's go and pay.
No? Really? You really think it's a size too big?
Noooooooo...Deep inside I knew they were right. But by now midnight blue and I were past the honeymoon phase and already an item...
And it would take for ages to find another one I liked at first sight 
And...
Oh all right.
Let's get out of here.
And then...tadaaaaaam! LFSTYLT husband spotted a woman in front of a mirror parading in the same jacket and was sure it was the size I was looking for - I don't have any kind of sense for that.
Wait he kept on saying, let's just wait.
I will skip the next 45' but I am not joking they were loooooong! That woman took entire 45' to decide whether she would take midnight blue or another one. 
Impossible not to hear her decision process. 
Turns out she already has coats anyways. So why need the others? Was it because of Black Friday? What was the deal here? 
Thankfully the 45' waiting were totally worth it because Midnight Blue and I were united and married off the second she decided against it.
So all in all I did benefit of Black Friday: YES!...But what an exhausting experience!
I got stuff I needed but I also got carried away on stuff I didn't think I would buy or even didn't really need....Hmm...so much about resisting impulsive buying!
Isn't that the way it always ends?
But in the end so worth it! I wore Midnight Blue with tags and all and am secretly so very happy it is cold this week that I can stay glued to Midnight Blue ❤️